Flap Jacks at the Tracks: June 11
Flap jacks at the tracks is a pancake breakfast event. It will be taking place on June 11th and will coincide with a community garage sale. Find some hidden treasures at the sale and enjoy some delicious pancakes at the same time.
If you are interested in selling your garage sale that's great! Contact us by phone or email. You can bring your own table for 10$ or use one of ours for 25$. We accept etransfers at our email elevatorsprucegroveagsociety@gmail.com. Or you can give us cash at 120 Railway ave during our hours of operation Monday-Friday 10-5 and Saturday-Sunday 9-4.
And if You'd like to volunteer sign up here: https://signup.com/go/tBQrCAm
Previous Events This Year
We celebrated our 50th year of running the Spruce Grove & District Agricultural Society on Saturday, May 7th 2022.
The 50th was a great celebration. It involved speeches from Ag society members as well as the mayor. A mural was unveiled and a play was performed. Many lifetime members of the society were honoured. It pleases everyone in the Ag society to be able to run for so long and do so much for the community.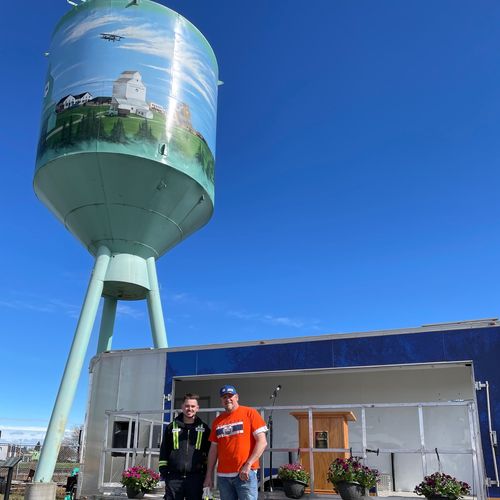 Thank You to ATCO
ATCO was very generous in providing the stage we used for the 50th celebration. We could not have done it without them.